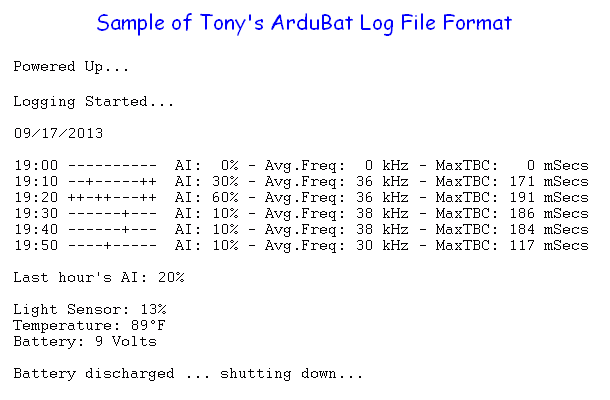 To the left is a sample of the bat activity log file format that I am developing. It is a bit different than Frank's format. ( This is an actual log of bats heard in my back yard ! ) Notice that there seems to be good consistancy in the data ... even though the TBC's seem a bit long.

The basic logging interval is one minute, during which bat calls are sampled, and measured. At the end of a ten minute interval, the activity index ( AI ), average frequency heard, and maximum time between calls ( TBC ) is summarized. Each of the ten minute lines includes a segment composed of ten characters ... either a dash ( - ) or a plus sign ( + ). The dash represents a minute where no bat call was detected, whereas a plus sign signifies that bat calls were heard.

At the end of each hour an hourly summary is written. Included in the summary are the ambient temperature, light level, and battery voltage.

The log also notes when the logging operation is stopped or started.

The logfile format is designed for visual interpretation, rather than automated processing. A different file format could be designed, that puts all of the data in comma separated fields, to be imported into a data base, or spread sheet. At this point, I am simply trying to see what the data collected looks like. You can download and read the sketch that I am currently using ... ArduBat2.ino ... but be aware that you may need to make changes for your particular hardware !!!

The activity index ( AI ) used in the log is adapted from a protocol proposed by Bruce W. Miller ( see the journal, Acta Chiropterologica, 2001, pp 93 - 105 ) . Bruce's AI was applied to larger time periods, and differentiated among species, but the key factor that I have used, is to index the number of one minute blocks that had bat calls, rather than trying to count bat calls, or figure out how to determine and count bat passes. Since the ArduBat is using a sampling method, the active / inactive minute parameter is easy to accurately obtain.

The average frequency, and time-between-call measurements, are relatively straight forward concepts. But, given the limitations on the frequency response of the ArduBat transducer, and the sampling method I use, there is a little more that needs to be explained. I am making this discussion a separate page, as I feel it requires a bit of back ground explanatory material to fully understand the capabilities and limitations of the pulseIn sampling technique.